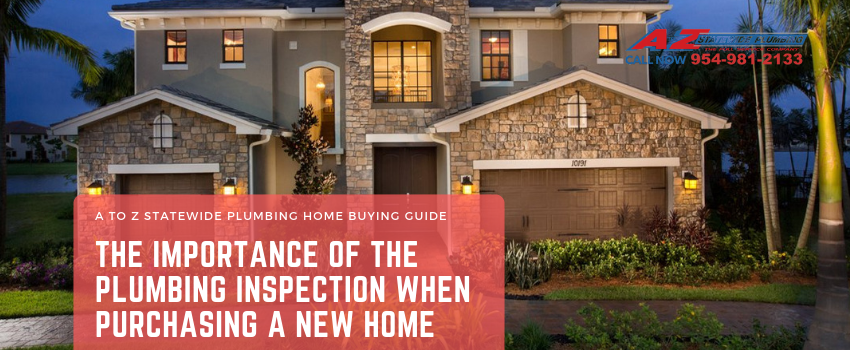 Buying a house is a big investment. Saving some money throughout that process is a reasonable goal, but one area you don't want to skimp on is scheduling a plumbing inspection before signing on the dotted line.
From sinks, toilets and drains to water heaters, washing machines and showers, plumbing reaches every corner of the home. As such, a leak or major break can result in extra damages that could have potentially been avoided with early detection and a simple fix. So before you start scheduling a move-in date, you should first consider the importance of the plumbing inspection.
Know the Issues
When it comes to plumbing, a small problem can evolve into a major nightmare if an issue goes unresolved. One of the main reasons to schedule a plumbing inspection is to make sure those risks are minimal before moving into a new home. A plumbing inspection includes everything from checking water pressure and sink foundations to inspecting fixtures, pipes, connections, valves and caulking. Major appliances, such as the water heater, will also be given a thorough review to make sure the buyer is aware of any problems in advance.
Save on Repairs
Investing in a plumbing inspection before buying a home can help you avoid more costly repairs down the road. If issues are discovered and addressed early, it's less likely they will evolve into more catastrophic problems in the months and years to come. When your AC stops working, you might have to spend a day without cool air while waiting for a repair. But when a problem goes unresolved under the kitchen sink, buckets of water can cause additional damage and create the need for even more – and more expensive – repairs.
Peace of Mind
One of the major advantages of getting a plumbing inspection is that you will go into your new home knowing that a professional has given the place a thorough examination and reported on any causes for concern. In the event an issue is discovered, you will still have time to renegotiate cost or repairs before closing escrow. And if the concerns are more substantial, you will still have time to back away from a potentially bad investment. Plumbing issues should not necessarily be considered a deal breaker when buying a home, but an inspection will give you a better understanding of the full picture and, in the end, help you make a well-informed decision.