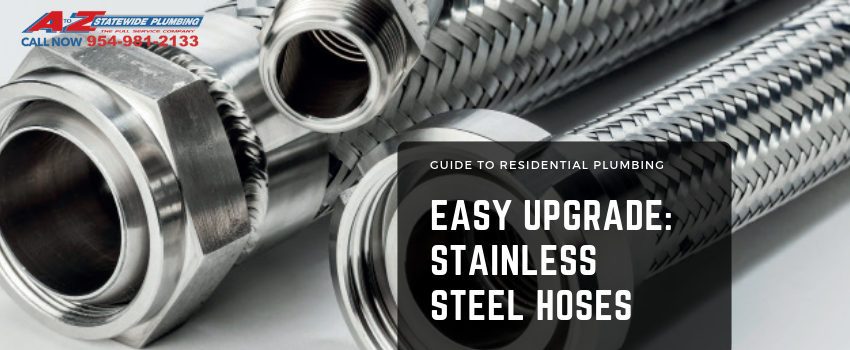 Easy Upgrade – Stainless Steel Hoses
In South Florida, your plumbing system is very important. Alright, it's important no matter where you live but in South Florida there are some very specific issues we face in our homes or businesses. Sometimes things that go wrong environmentally which can affect your plumbing in this sunny area of the south are leaky faucets, low-water pressure, and clogged drains. Different kinds of pipes which are made of materials that may not last forever can be a big issue. One of the best things you can do in an easy upgrade for your residential home or commercial property is to overhaul your plumbing system, making it stronger with one very specific upgrade. It's stainless steel hoses. And boy oh boy, is it a worthwhile investment to make sure the life of your plumbing system can go the distance for you and your family.
Here's the issue with having pipes made of other materials. They may be susceptible to cracking and splitting, causing leaks or broken pipes that need to be repaired (at the minimum), and completely replaced when you have a system failure (maximum problem).
Why Stainless Steel Hoses Are Just Plain Better
Stainless steel braided hoses are simply the very best in connections for toilets, sinks, and refrigerators. They are better than PEX connections and other plastic connections that can pose issues with bursting. You definitely don't want that to happen.
What's The Bottom Line On Cost?
You may be thinking that upgrading to stainless steel hoses will be crazy expensive. Not so. In the long run when you make the investment what you are going to save on costly repairs of your other pipe systems pales in comparison to just making the switch to stainless steel hoses. You are absolutely going to fortify and straighten out your plumbing system with this one simple upgrade. Overtime your system will stand up to the wear and tear of daily home life better with less chance of breaks in your hoses or pipes that need repairs.
Some Additional Benefits Of Stainless Steel
Stainless steel is a mighty piece of metal. It's stronger, lasts longer, and resists damage because of the ability to ward off rust. Sometimes the stainless steel hose tubing is braided to add extra durability and makes it even tougher. This is a top of the line steel that will last for years to come. If you have questions about upgrading your home or commercial business to stainless steel hoses, give us a call today. Our staff will be happy to answer any questions you might have about this important upgrade you can make to your plumbing system.