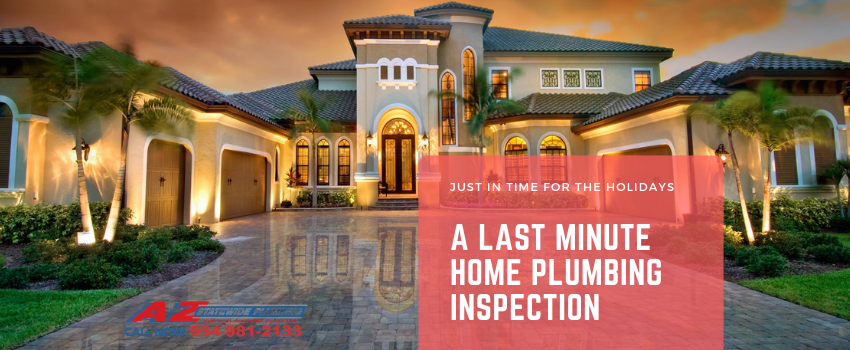 The holiday season is a time for family and friends. While some people welcome the extra guests in the house, other people dread it. One of the worst-case scenarios is too few bathrooms for all of the guests. The problems are only made worse when the plumbing goes out. Perhaps the showers stop running. Maybe the toilets become clogged. Regardless of what happens, this is a disaster waiting to happen. For this reason, and several others, it is important to perform a home plumbing inspection before all of the guests come into town.
The Water Heater
A potential disaster would be losing the water heater just as all of the guests arrive. A water heater is like other important parts of the home and requires an annual inspection. Over time, a residue can build up on the inside of the water heater. This residue can impact the efficiency of the water heater and reduce its volume. For this reason, the water heater needs to be inspected and cleaned annually.
Dripping Plumbing Fixtures
Over time, the plumbing fixtures can start to degrade. This can lead to dripping faucets that can lead to a dramatic increase in utility costs. A dripping faucet can waste thousands of gallons of water over the course of a year. This can lead to hundreds of dollars in added utility costs. Make sure to avoid these unnecessary expenses by performing all routine plumbing maintenance on time. Make sure those fixtures are tight.
Ensuring Pipe Insulation
Many people neglect the insulation of their pipes. While freezing conditions are unusual for the state of Florida, they do occur from time to time. If the pipes freeze over, they can rupture. This can lead to a home disaster. To avoid this, it is important to make sure that all of the pipes are insulated properly. Make sure that this inspection is performed annually. This can prevent the pipes from rupturing and can save a family a large amount of money.
Check the Supply Lines
The supply lines are often forgotten in the home plumbing system; however, if these break, it could spell disaster very quickly. Examples of appliances that are fed by the supply lines include:
Be sure to check the shower heads for mineral buildup and change the filters in the water filtration systems. These can clog very quickly. Finally, don't forget to check any of the drains as well as the septic tank pump-outs. If these systems back up, it could be a costly repair.
The Last Minute Inspection 
Like other parts of the home, it is important for homeowners to keep up with the routine maintenance of their plumbing system. This can help identify problems before the guests arrive, helping to avoid a potential holiday disaster. Don't wait for something to go wrong. Perform a home plumbing inspection today.