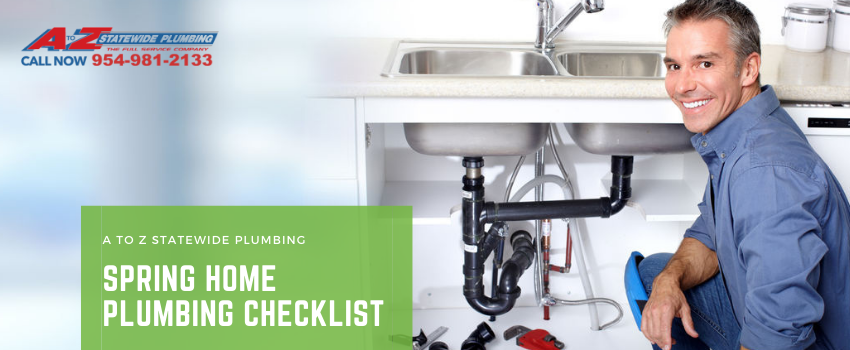 With spring coming up, it is important for you to think about your plumbing in addition to spring cleaning. As you are cleaning up around the house, make sure that your plumbing system is ready for the warmer weather. Using this helpful home plumbing checklist, you can reduce your chances of suffering a major issue with your plumbing system. This can prevent a costly repair bill that may take a bite out of your summer vacation budget!
Check Around Your Toilet for Leaks
Toilet bowl and tank leaks can lead to serious floor and wall. If you notice that your toilet is rocking on the floor, this could be a sign of a leak around the bowl. In addition, place a few drops of food dye into the tank of your toilet. Then, give the dye an hour or two to spread throughout the tank. Finally, look in the bowl and see if there is any dye in the bowl water. If so, then reach out to a trained professional to see if there is a problem with the plumbing system.
Inspect Your Pipes for Signs of Leaks
You should check the faucets in your home and see if there is any water coming from the faucet when they are turned off. If you find that water is leaking from the faucet even when they are turned off, then it might be time to install some new fixtures. Or, reach out to a trained professional to see if the leaks can be repaired.
Ensure Your Water Heater is Maintained
In general, you should expect your water heater to last for about 15 years. Take a look at your water heater and see if it is approaching the end of its life. Then, contact a trained professional to inspect your water heater. When you get your water heater inspected, you reduce the chances of a serious issue developing that could require a major repair. Furthermore, your water heater will be more efficient, reducing your utility bills.
Contact the Professionals at A to Z Statewide Plumbing!
Make sure that your plumbing system is ready for the spring! Use this spring plumbing checklist and reach out to our professionals for an inspection! Contact us today at 954-981-2133!