Florida's #1 Drain System Cleanout & Hydro Jetting Experts of Pembroke Pines, Hollywood, Miami, & Fort Lauderdale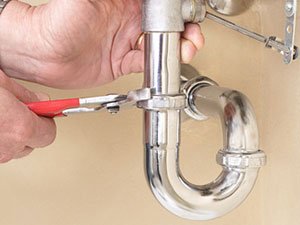 A to Z Statewide Plumbing is equipped with the most modern equipment in the industry that can clean drain problems from all storm drain systems. Our hydro-jetting machines, as well as our conventional electrical-mechanical machines can clean pipes from ½" to 48″. We can clean kitchen sink drain lines in homes to completely hydro-jetting 30-story buildings from the roof. The residents of Pembroke Pines and Hollywood voted us as their #1 reliable drain system cleanout experts for ten years in a row.
Nothing is more frustrating than a clogged drain, especially if you've unsuccessfully tried to unclog the drain using homemade solutions like mixes of bleach and vinegar, salt and baking soda, boiling water, etc.
It's best to leave it to a drain cleaning plumber to unblock your drain because they use professional tools and methods like hydro-jetting.
The most common warning signs you may have a clogged drain include:
Sink takes long time to drain
Water builds up in shower
Unpleasant smell comes from drain
Toilet flush leaves scattered debris
When you begin to notice these drain problems, it's best you contact us immediately to clean your drain with a 30-day guarantee instead of making matters worse, like using a bent wire hanger that gets stuck inside the pipe, or losing an important slip nut while trying to reassemble the drain trap.
Hydro Jetting Services in Pembroke Pines, Hollywood, Miami, Fort Lauderdale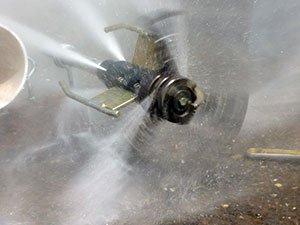 Hydro Jetting is a far better, long-term, and trouble-free drain cleaning solution than a traditional drain snake.
Our Hydro Jetting specialists in Ft Lauderdale use high-tech pumps and flexible hoses to direct high pressure water streams to cleanse and unclog pipes, drains, and sewer lines of pipe debris.
Once the hydro jet nozzle is turned on, it actually pulls itself into the pipe. The water pressure leaving the nozzle propels it forward, through the pipe that is not pressured with water.
When the water leaves the hydro jet nozzle, it travels at a very high speed. It is the speed, or velocity of the water, that actually does the cleaning or scouring of the pipe debris.
Consequently, the pipe's original internal diameter is cleaned to normal to allow proper flow and function.
We usually recommend hydro jetting a clogged drain line or clogged sewer pipe in your Miami home or office when the clog is really bad. We use various sizes of hydro jetters on pipes from 1.25″ wide to 36″ wide to hydro jet any pipe clean.
---
DrainVision – Inspection Camera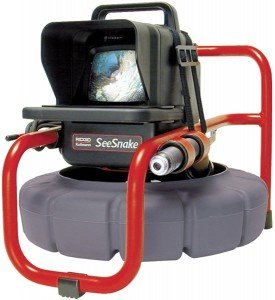 A to Z Statewide Plumbing is equipped with state of the art CCTV inspection camera equipment to inspect the inside of piping along with hard to get areas. This is recommended when there is a continual problem with a drainage pipe to pinpoint the exact problem before excavation. We leave the videotape completely explaining the problem and the options of repair for you and your insurance company. All of our camera technicians are fully trained and of the most professional caliber.

If your drains seem to be running slowly, you may be experiencing one or all of these common problems: Tree roots can grow into your sewer line and clog it. Debris can get caught in your sewer line and clog it. A break in your sewer line can cause sewage to seep into the yard.
Drain Cleaner Service in Miami, Pembroke Pines, Hollywood, & Fort Lauderdale
Our DRAINVISION system includes a special remote control camera that feeds through the cleanout connected to your sewer line. This enables us to do a visual inspection along the entire length of the pipe from the house to the roadway. If you can locate a small problem early and correct it, you can avoid digging up your whole yard and the expense of replacing your entire sewer line… a project that can cost from $2,000 to $10,000!
---
Affordable Drain Systems Cleaning in South Florida
Are you looking for affordable drain system cleaning experts in Miami, Fort Lauderdale, Hollywood, or Fort Lauderdale? Our equipment can adapt to a variety of water pressures and volumes for any application. Which includes removing rocks, sand, sludge, concrete and many other foreign matters from rainwater leaders, parking lot drains, and storm drainage lines to ponds, lakes and the ocean.
Many piping applications like large air conditioning condensate lines can be cleaned with this equipment. In addition, we have vacuum trucks that can remove debris from the piping in manholes and vaults. Please see our current plumbing promotions and plumbing discount offers.
Call 
954-981-2133

 to schedule your hydro jetting & drain cleaning services!
---