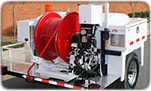 Whether it be roots, sand, grease or some other type of junk, obstructions in your home or businesses' drain and sewer lines have a tendency to build up and solidify over time. And when water isn't able to drain properly, you can run into some big issues – notably drain backups that can turn into flooded basements or properties, resulting in potentially very costly property damage and, in the case of a commercial entity, possible business interruption and lost revenue.
That's where a technique like water jetting comes in handy for residential plumbing and commercial plumbing environments. Specifically, the drain cleaning technique involves the use of a high-pressure water jetting machine and a heavy duty hose, which can be equipped with various nozzles and directed into a drain or sewer line to essentially blast any debris out of the way so that water can once again flow properly.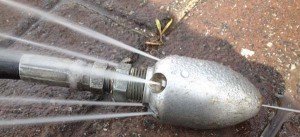 You may have heard of water jet cutting machines before, which are used in industrial environments to cut through heavy metals to create new products. While water jetting machines don't quite pressurize water to those types of levels, the same basic principles hold true when it comes to jetting for plumbing purposes – it can work to clear away blockages that standard augers or cable machines are unable to resolve.
Specifically, water jetting is ideal for clearing and blasting through the likes of:
Mud, sludge and debris
Grease
Roots
Other hardened scale
Water jetting is affordable, efficient and also a very safe technique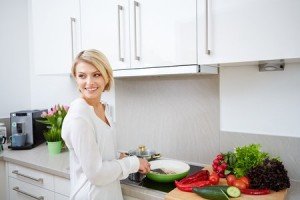 It's much less laborious and far cheaper than potential alternatives, such as excavation and pipe replacement, and it also excels at not just eliminating clogs or blockages, but in removing all contaminants from the drain or sewer line being treated. For a single-family home or small business, water jetting is best done every few years, whereas for a commercial restaurant that regularly deals with grease and food debris, water jetting should become a part of this type of entity's annual maintenance schedule. For some restaurants, water jet cleanings may need to be done quarterly.
While it is possible to attain a water jetting equipment rental, for such a specialized technique, this task is best left to your professional, qualified Miami plumber. Our trusted Miami-area plumbers are available to schedule regular appointments and can also be at your service in the event of an emergency. We are on call 24 hours a day, 7 days a week, 365 days a year. Using our years of experience and best-in-class equipment, our plumbers will determine what it is that is causing your problems, resolve that problem and then ensure that the issue is taken care of or can be monitored in the future.
For more information on water jetting and to speak with one of our Miami-area plumbers, contact us today at
1-800-930-1123

.