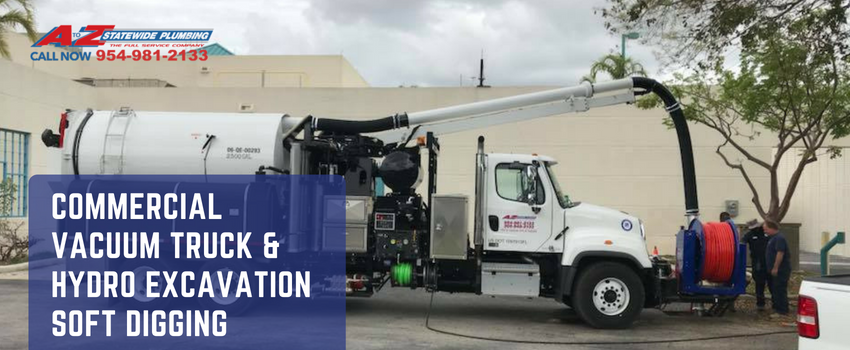 When you discover you need excavation around your home to repair a damaged foundation or to expose clogged plumbing drains, there's no need to panic. The days of disruptive excavation are gone now that you can have soft digging services performed instead. Soft digging, also known as hydro excavation, is a ground breaking way to remove soil and debris without disturbing any surrounding materials. Even when you need to dig directly around utility lines, buried pipes, septic tanks, and foundation walls, the power of water and vacuum combine to prevent damage and quickly remove even the toughest soil, sand, and clay materials.
What is Hydro Excavation?
We refer to hydro excavation as soft digging because high pressure water is used to turn the soil into a soft slurry. Instead of digging or drilling out material in a way that leaves voids behind, the water jets gently loosen up compacted ground to create trenches, cut through debris, and open up exploratory tunnels. It's a versatile technique that both the homeowner and business owner can use to expand their utility connections or create new drainage opportunities without any risk of damage to the existing structures or buried lines.
Why is a Vacuum Truck Required for Soft Digging?
The vacuum truck provides the second half of the hydro excavation process by sucking up that slurry created by the jets. With each bit of soil and rock being removed as soon as it comes loose from the ground, there's little chance of a collapse and the digging process goes much faster than with traditional excavation. There's also no need to pile dirt in your driveway or on your lawn as it's removed from the ground. When there's a need to clean out a tank or drainage basin with this technology, the debris from the blockages is sucked out with the vacuum truck so it can't resettle to form new clogs in the future.
Contact A to Z Statewide Plumbing for more information on our soft digging services. In addition to safe and non-destructive excavation services, we also offer cleaning services for all kinds of basins, drains, tanks, and grease traps.