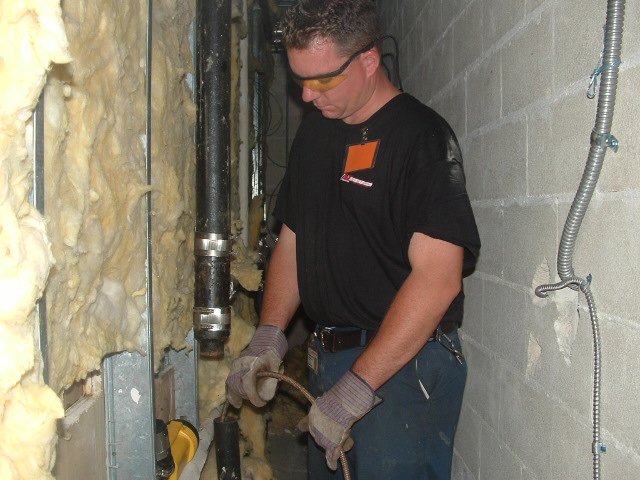 When you take a shower, clean the tile floors, or wash your hands, you need the wastewater to flow smoothly into a working drain. So when a clog prevents water from draining, many homeowners purchase drain cleaning liquids that claim to unblock tough clogs. If you own a bottle of drain cleaning fluid, you may want to read further. The chemicals contained in drain cleaners are quite hazardous to your health as they give off toxic fumes and can be harmful to skin or eyes. Furthermore, these can possibly damage your existing plumbing while often not clearing the clog, especially those far from the drain opening.
The best way to get rid of drain clogs is by calling a plumbing professional. Here is a list of some of the tools plumbers may use for drain cleaning in Pembroke Pines, Hollywood, or Fort Lauderdale.
– Manual drain snake: Go to your local hardware store and you can easily find a manual drain snake at affordable cost. This is one of the most common tools for getting rid of clogs.
– Motorized drain snake: While you may be able to find a manual drain snake at most hardware stores, an electric drain cleaner reaches deep into the pipe to remove hidden problems quickly and accurately.
– Video technology: During drain cleaning, the technician may notice pipes that are compromised by corrosion, rust, breaks, or dirt. In this case, your technician will use video inspection device to locate and inform you of any problems that need to be fixed before drain cleaning.
– Hydrojetting: Hydrojetting is another service that uses powerful hoses to provide a rush of water that clears pipes effectively when used correctly.
DrainVision is a valuable service that can help prevent major problems from occurring in the future. Clogged drains are an inconvenience and can lead to major problems with your pipes. Clogged drains back up sinks and pipes, which can affect the pressure of your plumbing, which may in turn lead to further damages. Be sure to schedule drain cleaning at the first sign of clogs. You may also choose to schedule drain cleaning just to have some peace of mind that everything will continue to work as it should.
When you have a clog, or if you'd like to schedule a cleaning to maintain your plumbing, you need professionals with the right tools to get the job done right.