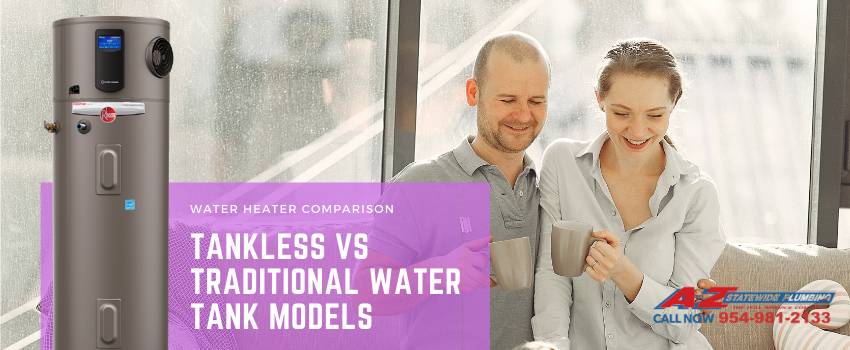 Even though a water heater can be expensive, you should view this as an investment. A typical water heater should last around 15 years. When it is time for you to replace your water heater, there are several major factors that you need to consider. These include efficiency, cost, and longevity. One of the major decision points that you will need to address is deciding between a tank or a tankless water heater. By taking a look at the pros and cons, you can make the right decision for your home.
The Pros and Cons of a Tank Water Heater
The vast majority of homes of a tank water heater. This is an insulated tank that will hold somewhere between 30 to 50 gallons of water. They usually use electricity or natural gas as their fuel source. Some of the advantages of a traditional water heater include:
They tend to have a lower initial cost
They are easier to operate, reducing maintenance costs
If something goes wrong, the repair bills tend to be lower than a tankless water heater
On the other hand, your utility bills will probably be higher with a traditional water heater.
The Pros and Cons of a Tankless Water Heater
A tankless heater is also called an "on-demand" water heater and it doesn't have as many parts as a traditional water heater. As a result, a tankless water heater should last longer than a traditional water heater, providing 20 to 30 years of useful life. Some of the other advantages of a tankless water heater include:
A tankless water heater should help you save money on your utility bills
It will not take up as much space in your home as a tank water heater
There is hot water immediately after the faucet is turned on
At the same time, tankless water heaters will cost a bit more money and they might not have the same capacity as a traditional water heater.
For Help with Your Water Heater, Contact the Professionals at A to Z Statewide Plumbing Today!
Choosing the right water heater for your home is a major decision. Make sure that you get the opinion of a trained expert from A to Z Statewide Plumbing! Contact us today at 954-981-2133 for help with your water heater!