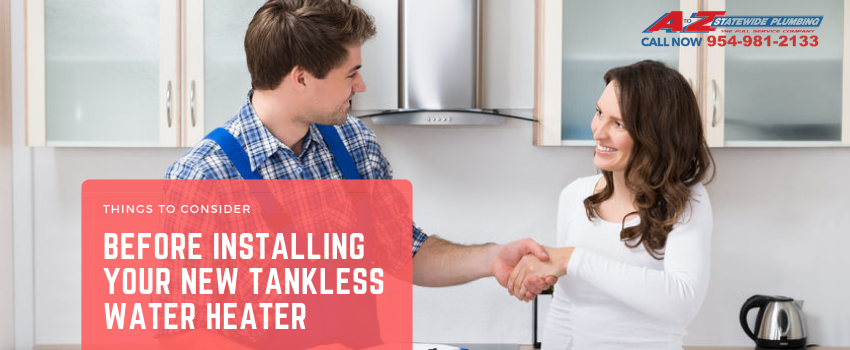 Many homeowners have made the decision to upgrade their water heater to a tankless one. Tankless water heaters are popular among people who are conscious about the amount of water and energy they use. These types of units heat instantly, and eliminate the standby energy loss that exists with traditional water heaters. Tankless water heaters also eliminate the need for a storage tank because the water is heated directly. There are a number of reasons upgrade to a tankless water heater, and there are several options available to homeowners who choose to do so.
Size Really Does Matter
In order to ensure tankless water heaters will work properly both the temperature rise and the flow rate must be determined. In order to do this a decision has to be made regarding whether the appliance wi going to be used for a whole house or a designated space, like a bathroom for instance. A professional installer has been trained to size tankless water heaters to accommodate the needs of the property.
Professional technicians generally consult with homeowners before they do a tankless hot water heater install to help determine the amount of hot water the home is likely to need at once. For example, in a household where there is a possibility for the washing machine and the dishwasher to be in use while a family member is in the shower, the flow rate needs to be set at a higher rate than a home where the use of these appliances simultaneously is less likely. The technician will ask questions regarding the amount of hot water usage in the home.
Electric or Gas
People who are making the decision to install a tankless hot water need to make a determination in regard to whether they want one powered by electricity or gas. It should be noted that it is possible to install a gas water heater in a home where the other appliances are electric. People who choose this option will need to have a technician come to their home to determine whether their gas access is propane or natural gas. It is very important that this is done, as the requirements of the tankless unit may differ from the requirements of the water heater it is replacing.
Applications
There are several models of tankless hot water heaters to choose from, like the single point application for example. This type of water heater is used for just one appliance, like dishwasher for instance. Other models include the following:
-Thermostatic
-Whole House Outdoor Use
-Whole House Indoor Use
If you are considering upgrading your hot water heater you need to make sure you choose a reputable installer. Here at A to Z Statewide Plumbing, our team of plumbing professionals offer a full range of services to support the needs of our customers. We pride ourselves on our ability to deliver outstanding customer service. Give us a call today at 954-981-2133 to find out more about tankless water heaters and the other services we offer.