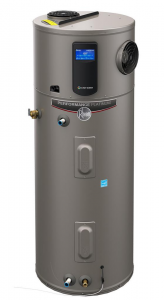 In the market for a new water heater? You have a number of options to choose from, but increasingly homeowners are considering hybrid electric heat-pump water heaters as an alternative to the traditional gas-powered variety. Before you take the plunge, consider the pros and cons of hybrid water heaters.
Pros
Hybrid water heaters work by drawing heat from the surrounding air and using that ambient heat to warm the water in the storage tank; the electric-powered heating coils are only activated when the ambient heat is not enough to adequately heat the water. In general, this variety of water heater boasts the cheapest operating costs for any available water heater, and these savings can multiply if you reside in a warm region and place your water heater in a high-heat area such as your garage or attic. Indeed, if you live in a warm year-round climate and face high electric rates, the energy savings can pay for your new hybrid water heater in as few as four years. Potential tax incentives and available rebates can increase your savings even further.
Cons
The upfront cost for a hybrid water heater is significantly higher than for other types of water heater, with current average costs around $1,200 to $1,400. Moreover, you may need to spend some extra money during installation. Hybrid water heaters are usually taller and wider than other types and their pipe configuration is often different than the typical water heater as well. Both of these factors mean that you may need to invest in reconfiguring your water heater storage area before installation. Another point to keep in mind: hybrid water heaters need to be surrounded by at least 1,000 cubic feet of air in order to work properly, so if your current water heater is in a closet, you may need to find an entirely different location. Lastly, hybrid water heaters do need to have their air filters cleaned regularly in order to maintain maximum operating efficiency.
Considering upgrading your water heater? The experts at A to Z Statewide Plumbing can help you choose the right make and model for your needs. Just contact us today to learn more.