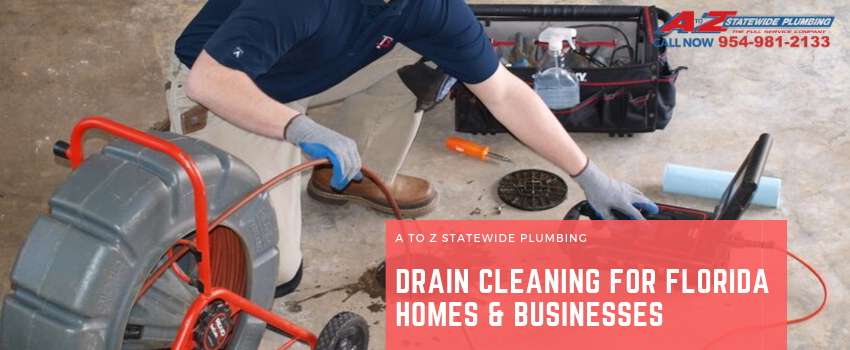 Most people don't spend much time thinking about whether their drains are clean. It's only when they're standing ankle-deep in the shower, or when a funky smell arises from the slow-draining puddle in the kitchen sink, that they realize there might be a problem. At that point what do you do? What should you do?
You can try to take care of it yourself. Some folks pour boiling water, bleach, vinegar or caustic commercial products down the drain. Others use wire hangers or snakes to push out the clog. Sometimes these methods yield some improvement, for a while. Sometimes they make things worse, for example, when wire gets stuck or damages the interior of the pipe.
Instead of crossing your fingers with a home-grown solution, consult a professional drain cleaning plumber. They'll use proper techniques and modern equipment to pinpoint the problem and address it with a guaranteed solution. The old fashioned drain snake is yesterday's technology, best suited to less serious blockages. For severe clogs, A to Z Statewide Plumbing uses Hydro Jetting, which brings a high pressure stream of water directly to bear on the problem area. It's done with sophisticated pumps and flexible hoses and a jet nozzle that travels into the pipe. The nozzle actually moves forward in the pipe as water leaves it a such high speed that it scours out debris and restores the pipe's internal diameter. Hydro Jet nozzles come in various sizes and can clean pipes from 1.25 inches to three feet.
A to Z Statewide Plumbing also uses conventional mechanical machines that handle passages from ½ inch to four feet. They service high rises and institutional buildings as well as residences.
What if there's a problem bigger than a clog? If there are ongoing issues with drainage, this may be the case. For example, there could be tree roots in the sewer line or a pipe break causing seepage into your yard. A to Z has you covered there as well. They employ DRAINVISION, a remote camera that feeds into your drainage pipes and creates a videotape showing exactly where the problem is found. You can go right to where the repair needs to be made rather than digging up a whole yard or replacing an entire sewer line.
So if your drains are running slow, your shower is backing up or toilet flushing produces debris, don't guess at what to do. Don't waste time and money on half-measures that may leave you worse off than before. Call a drain cleaning plumber to address the problem properly and guarantee their work. In South Florida, A to Z Statewide Plumbing is your go-to professional.