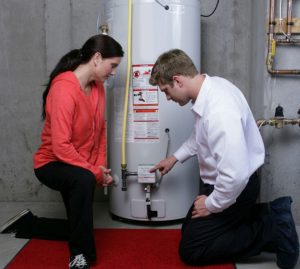 The water heater gets quite a workout in most Florida homes. Based on manufacturer's suggested service life, the life expectancy of a water heater is about 8 to 12 years. Water heater repair services do not always require the same technical training or licensing as plumbers and other contractors. It is sometimes difficult to distinguish between a company simply on the hunt to sell water heaters instead of repair them. It is important to carefully select a water heater repair service for your home needs. Here are six things to consider before you hire a water heater repair service:
Stay Away from Door-to-Door Representatives. You get a knock at the door, and someone wearing a uniform tells you they need to check your water heater. If you let them, they will likely tell you the water heater is old and inefficient and should be replaced, even if that's not true. You should never ever invite door-to-door salesmen into your home; there are much better ways to find a reliable water heater repair company.
Reputation is Everything. The internet allows you to easily find out which water heater repair companies have the best reputations. By checking out water heater repair services online, you are able to access customer reviews and ratings. It is advisable to check with Yelp or Angie's List and the Better Business Bureau for complaints, as well.
Check for the Certification! While they do not require the same amount of technical training as other contractors, water heater repair service technicians still require certification. It is important to check their certification before allowing them to repair or replace your water heater.
Are They Experienced? Experience is extremely important when it comes to water heater repair services. Generally, the more experienced the technician, the higher the quality of the work. It is always the best to work with someone who has been in the industry for over thirty years. Expeirenced companies will give guarantee while inexperienced ones will try to nickel and dime for additional services.
Reasonable Price? At the end of the day, price is always a deciding factor. However, it shouldn't be the only factor—you should be very wary of a company that gives you an estimate that seems too good to be true.  You will probably end up paying more in the long run to fix their poor-quality work or to repair or replace the water heater again just a few short months or years later.
When Replacement is Necessary Do It Yourself! If you are handy with tools, you might want to consider replacing your water heater yourself. For a direct replacement, installation is straightforward. Essentially, this involves putting the new unit in just like the old one came out, including the connection of supply water lines and electricity to the new unit.
By following these simple steps, you will be able to distinguish which water heater repair service is the most reliable, the most experienced, and executes quality work.
For water heater repair services in South Florida, contact us at A to Z Statewide Plumbing. We have over 30 years of experience in the industry and would be glad to answer any questions you may have. Give us a call at
1-800-930-1123.