West Park, FL, 03.03.2022 – A to Z Statewide Plumbing is proud to announce that it has earned the home service industry's coveted Angi Super Service Award (SSA). This award honors service professionals who have maintained high service ratings and reviews on Angi in 2021. "These outstanding businesses have helped homeowners not only maintain their homes, but also evolve them into spaces that can handle life, work, school and entertainment under one roof," said Bryan Ellis, senior executive at Angi. "Our homeowners' consistent positive reviews make it clear: these are the top pros in our network. Congratulations to this year's Super Service Award winners." Angi Super Service Award 2021 winners have met eligibility requirements. Pros on Angi qualify for the award by obtaining 3 or more services-performed reviews in the previous year, maintaining a current and lifetime GPA of at least 4+ stars. The SSA winners must be in good standing with Angi and have undergone our verification/screening
"We are honored to be recognized for the 2021 Angi Super Service Award. The number one goal of all A to Z Statewide Plumbing employees is to provide 100% satisfaction to our clients. From initial contact for service to the final turn of the wrench, we provide excellence in customer service from A to Z" – Aaron Atkins, Office Manager
A to Z Statewide Plumbing has been on Angi since 2006. This marks the 8th year A to Z Statewide Plumbing has received this honor. The Angi Super Service Award has also been received – 2009, 2011, 2016-2020.
Service company ratings are updated continually on Angi as new, verified consumer reviews are submitted. Companies are rated in multiple fields ranging from price to professionalism to punctuality.
For over two decades Angi has been a trusted name for connecting consumers to top-rated service professionals. Angi provides unique tools and support designed to improve the local service experience for both consumers and service professionals.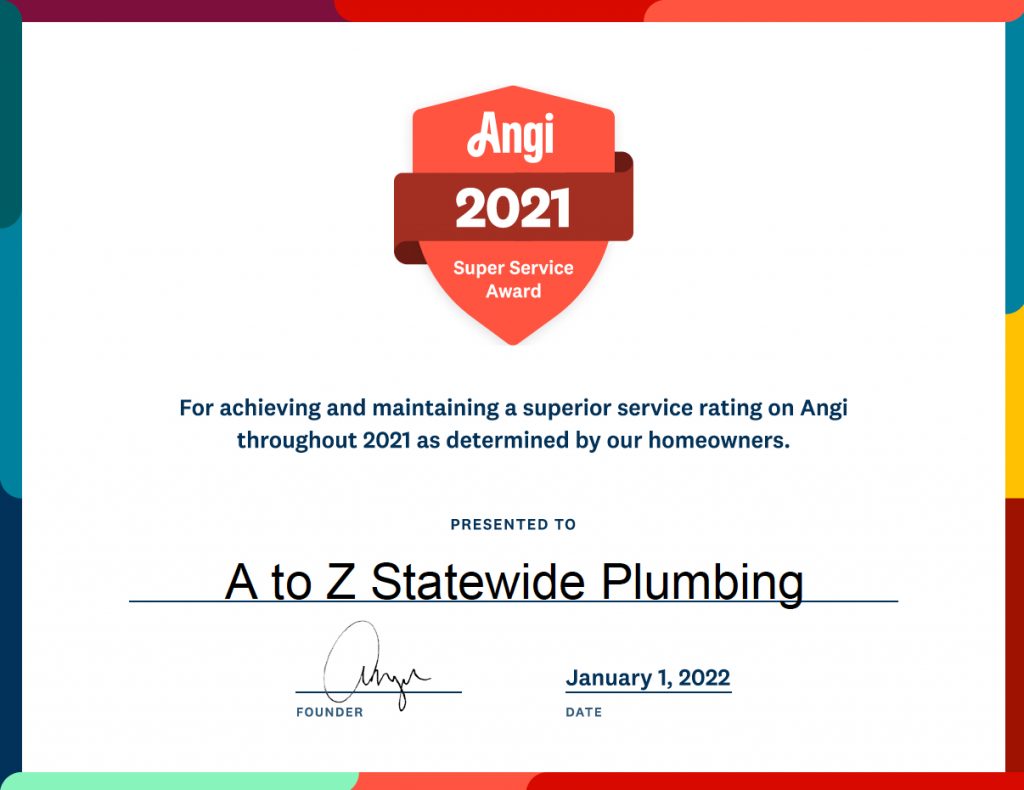 ###
A to Z Statewide Plumbing, Inc. is a Full-service plumbing contractor servicing all of South Florida including Hollywood, Miami, Fort Lauderdale, Pembroke Pines, Weston, Pompano Beach, and many more cities throughout Dade, Broward and South Palm Beach Counties. We specialize in the ability to service and perform emergency and routine plumbing repairs. In addition, we perform preventive maintenance checks, service of existing equipment, and installation of new plumbing fixtures. We also maintain and clean septic tanks, grease traps, and storm drains. Environmental remediation is also available. A to Z Statewide Plumbing has an extensive history of repair and service on all kinds of plumbing systems. We provide quality workmanship with professional, dependable, and courteous service every time!!! We offer 24-hour emergency service so that you can count on A to Z Statewide Plumbing to be there when you need us the most. Our trained technicians use state-of-the-art technology to diagnose and repair existing systems and always use the finest equipment in the industry for installations.
A to Z Statewide Plumbing |2215 S.W. 58th Terrace West Park, Florida 33023 | 954.981.2133 – Fax (954) 963-7680
www.atozstatewideplumbing.com | service@atozstatewideplumbing.com
Licensed and Insured: CFC 1426354 & CFC 1426229