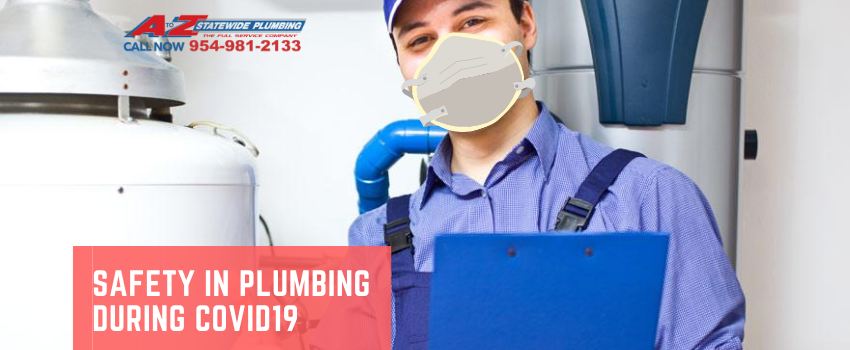 In all home renovation projects, especially in plumbing projects, it is important to solve health and safety issues. The fact that there is a pandemic does not stop people from keeping safe during plumbing. Not only should we follow basic guidelines like wearing masks, safety goggles, and other protective equipment, but we should also consider many factors. Considering that the majority of people are working from home, then the chances of a residential area requiring plumbing services are higher. Our company is dedicated to providing customers with the best services amid COVID as soon as they request them.
The COVID-19 pandemic has created challenges in different sectors of the economy. Some services have come to a halt. Fortunately, our services are fully running and will provide you with plumbing services whenever you need them. The various ways the virus is spread have made us extra careful when providing the service. The safety measures ensure that our customers and employees are not at risk of contracting or spreading the disease.
What you need to know
Our plumbing company has always observed cleanliness throughout the plumbing experience. Therefore, such has made it even easier to maneuver through the challenging times of covid19 safely. Our safety measure will ensure that our clients are comfortable enough to allow our plumbers to carry out their work. We aim at reducing the chances of our employees or customers contracting and spreading the infection. Currently, we have increased the supply of our cleaning products, and we are certain that this will prevent the spread of the covid19. Our employees will effectively offer you our services without putting you at any risk of contracting the disease.
Additionally, we urge our customers to re-schedule visits whenever they feel sick. Such would help protect both our employees and other customers. You can always schedule a later date when you feel better. We also ensure that our employees are in good health before sending them to our customers. Following the CDC's protocol, we have asked all the employees who might have covid19 symptoms to stay at home. Only until a medical professional has cleared them can they come back to work. The same guideline applies to employees who come from households with members who have visited other countries with high numbers of covid19.Therefore, our customers do not have to worry about covid19 as they seek our services. Our company is dedicated to providing clients with information regarding covid19, that they might require for them to make an informed choice.
We understand the health risk that covid exposes to people. We aim to curb the spread of the virus as much as possible while offering you plumbing services. We are dedicated to providing our customers with safe plumbing services. All you need to do is contact us and schedule our plumbers to handle your cleaning needs. Safe cleaning services are only a call away.