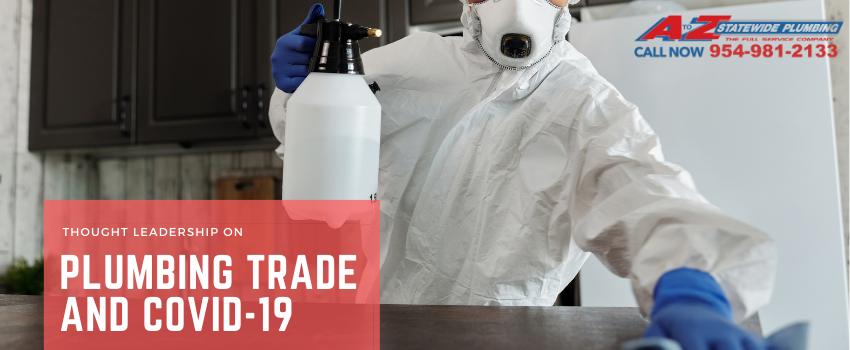 Different variants of Covid-19 continue to affect everyday life. In the plumbing trade, health and safety protocols are key when working in areas that may be infected. We follow strict safety measures from the CDC and those adopted within our business to help keep customers, employees, and technicians safe.
A to Z Statewide Plumbing crew carefully follows the trends and utilize resources and information from federal healthcare organizations on effectively dealing with instances where our plumbers must work in Covid-impacted areas. This helps us provide the best protection for our technicians.
While there has been no indication that the coronavirus has contaminated water, the likelihood of transmission among individuals in the home or at a business cannot be ruled out, even with safety protocols in place. Our services are essential. From running water to wastewater, making sure each one works as it should help maintain safe and healthy environments in your home or office.
How can we ensure the safety of our plumbers will not be at risk?
The first rule of thumb is to approach each job as one that requires extra precautions. We make sure all our technicians are screened and sterile. We provide masks, gloves, sanitary suits, shoe covers, and upon request, respirator masks are available.
We use social distancing as recommended, utilizing the six feet or more rule between our technicians and the customers. This further reduces the chances of contracting or spreading Covid. As our plumbers complete their projects, all work areas are cleaned and sanitized.
Our technicians that perform work on bathrooms that have been used by people with Covid must take every precaution to protect themselves from infection.
Keeping healthy employees
We practice regular testing of our plumbers before going to a job site. Any technicians who feel ill should not be around others and cannot perform when sick. We stress carrying hand sanitizer and cleaning supplies for their protection, but to also demonstrate how much they value the health and safety of our customers.
Covid doesn't seem to be going anywhere soon. The best solution for ensuring everyone remains protected is by following protocols, keeping areas sanitized, and wearing a mask and the right PPE for protection. Customers at home or in an office will appreciate our extra efforts in creating environments that address the problem while avoiding risk and exposure.
For more information on how we are taking extra steps to prevent the spread of Covid, contact our custom service team at A to Z Statewide Plumbing. Call us at 954-981-2133 today.