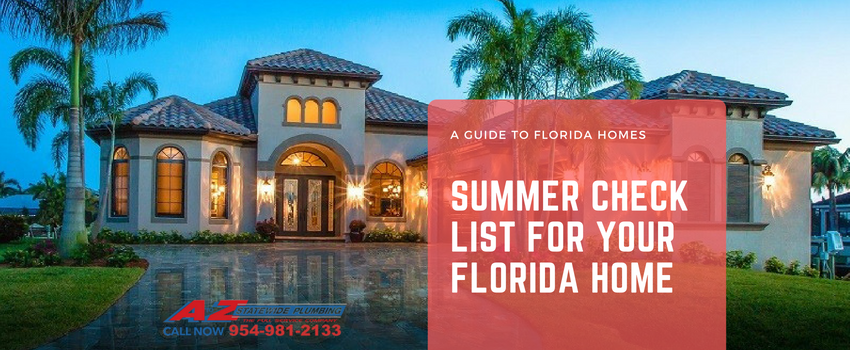 Summer in Florida means time spent outside enjoying the hot weather, along with the almost daily summer storms. As a homeowner, you need to take a few precautions to ensure your home is properly maintained and ready to handle the summer weather and activities. With a little bit of attention before summer comes in full, you can be confident that your home is going to serve you well all summer long.
Florida Home Maintenance Summer Checklist
How can you prepare your Florida home for summer? Here's a checklist of maintenance tasks to tackle:
Prepare and inspect your deck – Look for weather damage, water damage, rotting boards or signs of termites.
Schedule an AC maintenance check – Have a pro ensure it's ready for the challenges of summer.
Change your AC air filters – Make your air conditioner more efficient and your home's air cleaner with new air filters.
Test the smoke alarms – Replace batteries as needed.
Clean the Garage – Take advantage of the warmer weather and spend some time cleaning out the garage.
Check and clean the dryer vent – Make sure it's not clogged, which is a fire hazard.
Test your sump pump – For Florida homes with basements, a sump pump is critical to preventing flooding during summer storms. Make sure it's working properly, and clean it to remove soil buildup from the well at the start of summer.
Preparing Your Home for Summer? Don't Forget to Clean the Storm Drains
Summer storms are a way of life in Florida, and they can dump a lot of water in very little time. A properly functioning storm drain is essential to channel that water safely away from your business and/or parking lot. Unfortunately, storm drain catch basins can get plugged up with leaves, soil and other debris, preventing them from properly draining water away from your business and into a safe place. Storm drain cleaning requires a qualified sewer and drainage professional who utilizes dedicated equipment to deliver high water pressure into the storm drain to blast away the blockage, while using commercial vacuum technology to ensure proper function.
A to Z Statewide Plumbing offers a full list of storm drain services, including professional storm drain cleaning.
As you're preparing your home for Florida's summer, give A to Z Statewide Plumbing a call at 954-981-2133 to discuss your storm drain needs.