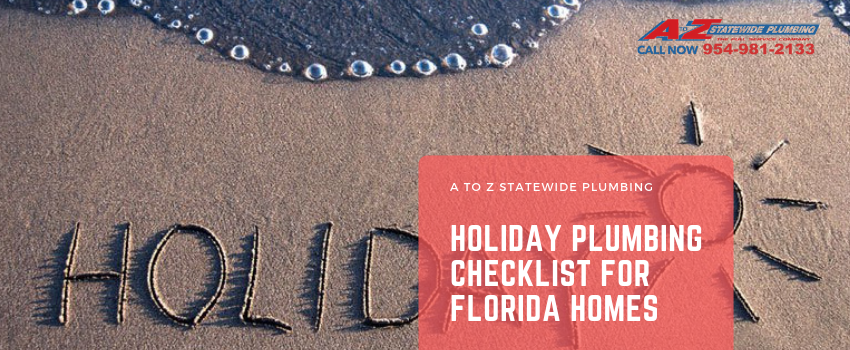 It is almost that time of the year when most of us will be traveling away from home to enjoy our holidays with friends and families. While this can be an exciting time of the year, it can also be stressful if you don't make an effort to keep everything right. You don't want to come back from your holiday only to realize that something went wrong while you were away.
Nobody wants to come home and find a plumbing problem. Plumbing problems can cause minor issues such as a leaky faucet that drives up your water bill or major issues that can make your home inhabitable such as a burst water pipe that has flooded your entire home. Before you pack your things and leave, here is the ultimate holiday plumbing checklist that will help you to ensure that everything stays in order.
Ensure that all the Taps are Switched Off
Although this may seem like an obvious thing, most homeowners in Florida won't put in enough effort to ensure that all the taps are off. Go around your home and check all the taps to ensure that they are firmly off before you leave. Sometimes, you may just forget that you haven't turned one of your taps off which might be fine if you will be staying at home throughout the holiday season but may be catastrophic if you are thousands of miles away from home. It will take you about five minutes to do this, but it could save your home from water damage or higher usage costs.
Check All Your Appliances and Water Valves
As you make your way around your home to switch off the taps, make sure that you also check your appliances. Take a look at your dishwasher, water heater, washing machine, refrigerator, etc. Inspect these appliances for any dampness or any standing water around the appliances and be sure to contact a professional if you notice something unusual. Taking a few minutes to ensure that your appliances are in good condition before you leave can prevent major headaches down the road.
Clean Your Shower Heads
This is particularly important if you will be staying at home throughout the holiday season. Clean your shower heads so that you get a clear flow of water. This will greatly help your guests to take shorter showers and comes in handy when you host guests who may be straining the hot water capacity. Take your time and remove the shower heads, soak them in vinegar overnight and rinse them well and you are good to go.
Check for Leaks to Conserve and Save
An average American home consumes approximately 100 gallons of water every day. With rising concerns about the cost of water and diminishing supply, checking for any water leaks and being proactive can help you save a lot of money and water. Check all your bathing areas, outdoors, and spigots at sinks to be 100% sure that they are tightly closed and aren't leaking or dripping any water. If your inspection reveals any drips, stains, or leaks, make sure that you have them checked before leaving.