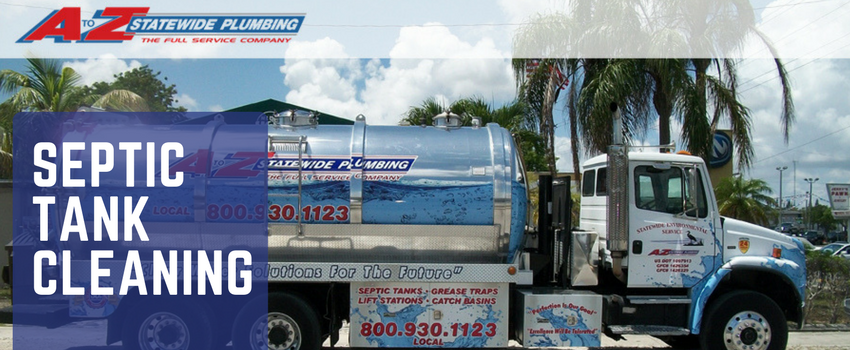 Regular septic system maintenance is part of the key to happiness if your home is one of the many that uses a septic system. When there are problems, there is no humor in the situation, until possibly later when you are telling the story to friends. Some companies deal with the seriousness of the matter by advertising, with signs like "You think your job stinks?" or "Dirty deeds done dirt cheap."
The first signs of a problem with a septic system are usually obvious, but may not seem serious at first. Maybe your toilet flushes slowly, or the sink. It seems more obviously serious when you are getting a back up in your toilet or sink, and the smell is coming into the house like an unwelcome visitor you can't get rid of. Even minor problems can become major problems if not dealt with promptly.
A to Z Statewide Plumbing has been in business since 1981, and has been performing both residential and commercial septic services for clients who have problems which are steadily building up. We like being on time and under budget while we find solutions for your problems, and feel confident in offering you a money-back guarantee if you are not 100% satisfied. When you first move in to a new home, we want to go ahead and completely service your system so that you won't have any problems left over from the prior owner. After that, you will still want to get it done on a regular basis.
The state of your septic system isn't something you can take lightly. The problems that start out as small smells or slow running water can quickly lead to a build up of dangerous bacteria that go directly into your home or business, threatening the health of your loved ones and people you are responsible for. We take this very seriously, and have found ways to do the job more thoroughly without charging our customers more for our efficiency. Your septic system is built to last, and we want to help make that happen. Instead of replacing drain fields, we find that we can repair them at half the cost.
Most people would rather not think about what it takes to maintain a septic system, but luckily you don't have to. Call A to Z Statewide Plumbing at 954-981-2133 to make sure you get the experience and reliability you need.