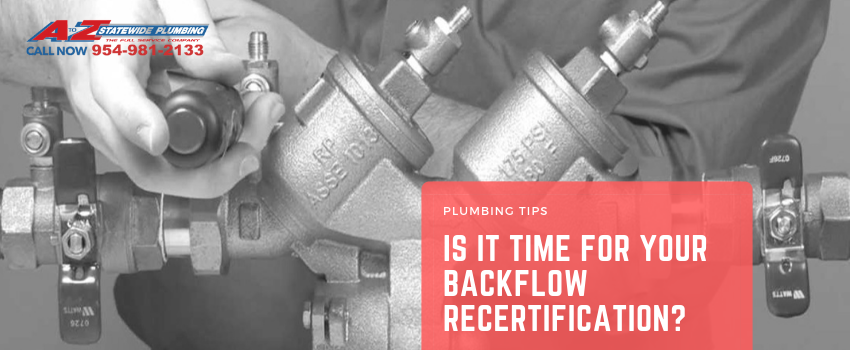 You want to ensure that the plumber that you hire has the right credentials. A plumber with the wrong credentials can potentially make mistakes that can lead to costly repairs for you down the line. This is why it is important to research the company that you are thinking about hiring before you actually do. Fortunately, A to Z Statewide Plumbing ensures that all of our plumbers are continuously educated on the ever-changing mechanics of plumbing and that they receive constant educational material to stay up to date. Let's take a look at some important educational material that we ensure that our plumbers know.
What is Backflow?
Backflow is the potentially dangerous reversal of the flow of water from its intended direction in any pipeline or plumbing system. A cross-connection is a physical connection between two separate piping systems; one containing potable water and the other containing water of questionable safety. Backflow can allow drinking water in plumbing systems to become contaminated and unusable. Backflow preventers are mechanical plumbing devices and assemblies installed in plumbing systems to prevent water from flowing backward in the system. A properly tested and maintained backflow preventer can reliably prevent water of unknown quality from contaminating a community's water system. Backflow certification is required for all commercial and many residential sites. Our backflow certified technicians are certified by the Institute Cross Connection and remain current in their licensing.
Backflow Recertification
Unfortunately, some plumbers in the industry have been known to accidentally enable backflow in their customer's homes when working on a job. This has lead to detrimental scenarios developing because of this. Fortunately, we have taken incredible measures to ensure that all of our plumbers receive their recertification on backflow that will guarantee their expertise on the subject.
Plumbers will enroll in a program that re-teaches them proper protocol and the importance of ensuring that water is flowing in the right direction. Students will take the American Society of Sanitary Engineering certification exam after the end of each recertification course to make sure that they have retained all the information that they have received. Backflow is a serious problem that many plumbers oftentimes do not consider whenever they are working on the job. A to Z Statewide Plumbing is here to make sure that our plumbers get the job done right the first time.
Let The Professionals Help You
You want to work with a plumbing company that you can trust. They are responsible for keeping the flow of water running smoothly in your home without any disruptions. A to Z Statewide Plumbing has been in operation since the early nineties, and we are here to help you with all of your plumbing needs. We only hire professional and certified plumbers that are experts in their field.
We pride ourselves on our phenomenal customer service and are here to help you anytime a leak springs in your home. Be sure to contact us if you are in need of plumbing assistance. Give us a call at  (954) 981-2133 -or- (305) 949-2133 to schedule your professional consultation today.