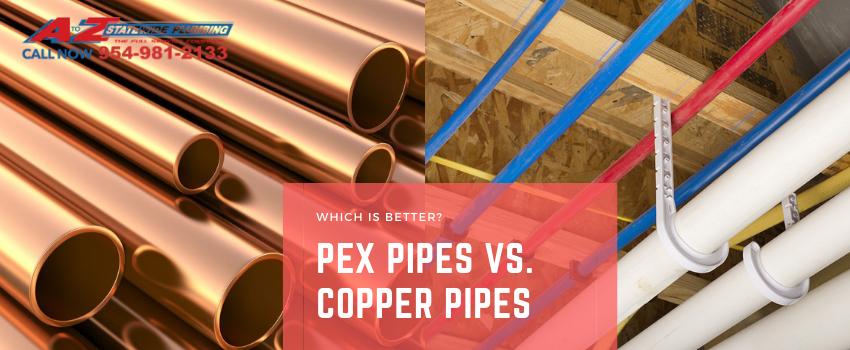 If you are looking for strong types to use for your home plumbing system, then you need to make sure you go with the right material. Traditionally, copper has been seen as the top choice for home plumbing systems. On the other hand, during the past few years, copper has been much to the side and just a bit by cross-linked polyethylene pipes, which are commonly called PEX pipes. Even though copper is still a popular choice in numerous new construction jobs, Pex is quickly becoming a popular choice for renovation and remodeling projects. Both copper and PEX come with several advantages and disadvantages. Therefore, it is important to keep a few key points in mind.
Copper Lasts Longer than PEX Pipes
Overall, copper pipes last longer than PEX pipes. Copper pipes can last up to 70 years while the average lifespan of PEX pipes is between 30 and 50 years. Furthermore, households that use extremely hot water (which is more than 180 degrees Fahrenheit close parentheses, or water that contains high levels of chlorine, can shorten the lifespan of PEX pipes. On the other hand, copper pipes can have their life spans damaged by acidic water. In general, copper will outlast PEX pipes by about 20 years.
PEX Pipes Are Less Expensive Than Copper Pipes
Overall, PEX pipes are cheaper to install than copper pipes. During the past few years, the cost of copper has risen dramatically due to its increasing value as a recyclable. Therefore, sources of copper are becoming harder to find. On average, copper pipes are going to cost 60% more than PEX pipes.
Pex Pipes Require Fewer Connections
In many cases, text types are going to be easier to install. This is because they require fewer connections. Copper is a rigid metal. This means that it needs to be cut to exact specifications and have elbow fittings installed every time it goes around a corner. On the other hand, text types tend to run continuously. Pex pipes bend easily around corners, meaning that additional connections are not necessary. This also means that text pipes are less likely to leak. Fewer connections make them more durable.
Contact A to Z Plumbing Today!
If you would like to learn more about pipes for your home, contact the experts at A to Z Statewide Plumbing Today at 954-981-2133. We will help you choose the right pipe for your home!