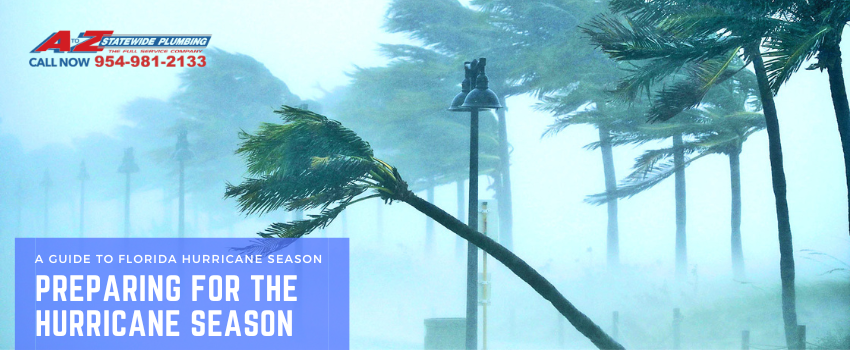 The 2022 Atlantic hurricane season is the current cycle of the annual tropical cyclone season in the Atlantic Ocean in the Northern Hemisphere. The season officially began on June 1, and will end on November 30. During this period, you need to ensure that you observe safety by taking care of your plumbing needs. Amid the hurricane, the chances are high that you will need more plumbing services than before. Leaking pipes, issues with your septic tank, or water heater, can be a real threat during a hurricane. To be on the safe side, ensure that our plumbers take care of all your plumbing needs.
The hurricane increases the chances of having leaking pipes that would need a plumber to fix. The good thing is that we care about your safety and provide you with the best possible services. Our company is a 24-hour emergency plumbing service. Therefore, if the hurricane destroys anything that needs our attention, we are only a call away and always ready to offer you safety.
Considering the destructive nature of hurricanes, it is essential to ensure that you have put safety measures into place. Such measures would help reduce the extend at which the hurricane destroys your property. Imagine a situation where your entire water system gets contaminated, and you have no emergency plan. Well, our services are an emergency plan. All that you need to do is give us a call and will offer you the necessary service.
Your safety during the hurricane period is one of our main considerations as we offer you licensed and insured services. We have purchased more supplies to ensure that our team has everything need for plumbing during this period. Therefore, we will offer you emergency services and ensure that it is the best service that you could need during a hurricane. Additionally, we offer straight forward prices, and we will not take advantage of the hurricane to charge you more.
Hurricane safety plays a substantial role in individuals' lives since it determines the loss of life that could be incurred. Water causes most of the damage during a hurricane, and you need to take time and plan for the hurricane as well as its aftermath. Such planning will require a plumbing company to ensure that your water system and drains are in good condition. As a result, this would reduce the impact of floodwater that might have otherwise caused a lot of damage.
Hurricane safety must be taken seriously. Failure to prepare for a hurricane in time may cause structural damage, and even more severe injury or even death. A to Z Statewide Plumbing has all the plumbing services that you might need in preparation for the hurricane. Our company has a 24 hour emergency response team. All you need to do is give us a call, and we will be ready to help you ensure safety.