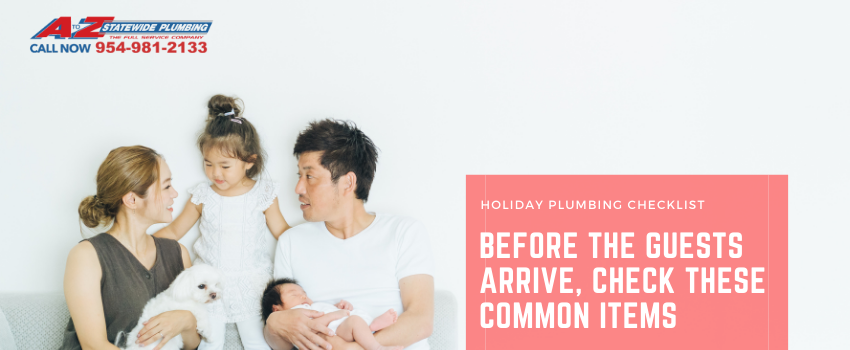 If you are planning on welcoming guests into your home for the holidays, then you need to make sure that your plumbing system is ready to handle the added wear and tear. Make sure that your home is ready to handle the added capacity by taking a look at this holiday plumbing checklist.
Cover the Drains in the House
When more people using your bathtubs and shower, this means that you are going to have more hair going down the drains as well. Make sure that you prevent your drains from getting clogged by covering your drains with strainers. This will block hair and debris from blocking your plumbing system.
Think About Trash Cans
Even though trash cans are not a part of your plumbing system, they can still protect it from harm. By adding trash cans in the toilets and guest rooms, this will prevent your guests from flushing unnecessary trash and debris down the toilets. This would otherwise lead to some incredibly inconvenient plumbing issues.
Check the Plumbing System for Leaks
Always take the time to check around the bottoms of your toilets and under your sinks for wet spots. If these toilets and sinks are not used on a regular basis, it is easy to overlook a leak. If you do spot a leak, then you need to reach out to trained professionals to take a look at the leak and fix it before your guests arrive.
Add Some Extra Hot Water Capacity
Having a lot of extra guests can cause your hot water heater to dry up relatively quickly. A 50-gallon tank is going to provide about 20 minutes of continuous hot water at the hottest setting. Considering the extra people you are going to have in your home, this is likely not enough. Reach out to your plumbing professionals to learn more about upgrading your hot water heater.
Inspect Your Plumbing System
Finally, make sure that your plumbing system is ready to go with a comprehensive inspection. If you would like to make sure that your plumbing system can handle your guests, contact the team at A to Z Statewide Plumbing today at 954-981-2133!