Not everyone comes armed with professional plumber tools, which is probably a good thing.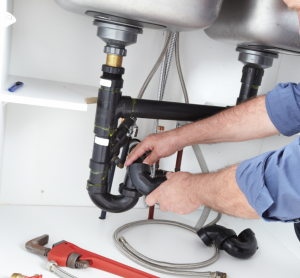 Can you imagine the damage that untrained/amateur homeowners could do if they had easy access to tools like giant pipe wrenches, tube cutters and a propane torch?
Part of being a quality plumber isn't just helping unclog people's drains; people in this profession have also learned where and when to apply heavy leverage, and what points require a light, precise touch, and 'doing it wrong' can result in major, perhaps permanent damage.
However, there still are going to be situations where homeowners can take care of their own minor plumbing situations like drain clearing on their own without having to call for professional assistance and declare them full-fledged emergencies.  And they also can use tools — but hopefully not the big ones.
Plunger.  The 'plumbers friend' create a seal around the toilet or sink and force air  and water into the drain, which often is all it takes for basic clogs.
A basic wrench. Something that can undo sticky, stubborn bolts on a sink or toilet can be handy. They can also hold, push on or tighten undone bolts.
Liquid drain cleaner. Though you may see all sorts of colors and brands, most are pretty similar, at least in amateur hands. Most are basic, which is the opposite of acids, and essentially dissolve material that is blocking the drain like hair, grease or soap scum. Pros advise not using acids and also not mixing different types together, which could create dangerous reactions.
Mechanical drain cleaners. Instead of shoving liquid down a drain, these devices shove blasts of compressed air. You need to make sure the other drains are blocked during this process to make it effective.
Call for help. One of the best tools amateurs can use is the phone once they realize a situation is beyond their abilities. Calling A to Z Plumbing  for assistance is a good idea to save some time and money. Call 954-981-2133 if you're in South Florida.