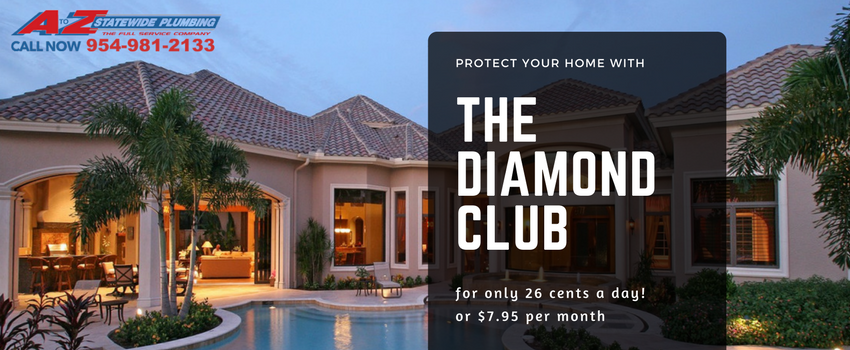 Nobody wants to think about having a plumbing problem, and you won't have to worry if you join The Diamond Club. For just 26 cents a day, or $7.95 a month, you can have the peace of mind that comes with knowing you have the best protection possible in case something goes wrong. You can even get discounts if you pay the annual price ahead of time. This offer is only available to 22% of our clients, but we hope that people who really love and want to take care of their homes will take advantage of it.
As a member of The Diamond Club, you will automatically be qualified to receive $200 in free services. Every year that you are a member, a Certified Service Technician will come to your home and perform a thorough inspection, do a scheduled service and then do free plumbing system adjustments. As part of this service, the technician will check your toilets for leaks and smooth operation, check all your exposed water lines for damage, and check your drains and below your sinks. The certified tech will also check your water heater for problems like silt build-up and corrosion, and your washer for problems with drainage or wear on its hoses and valves.
Members of The Diamond Club never have to wait more than 2 hours for service, and we promise that we will arrive in one hour during our business hours. You start at the front of the line when you need us.
Any time you do need us to do a repair for you, you will automatically get 25% off the service price. There is no limit on how much you can save. You get to take advantage of unadvertised specials that others don't know about, and you also get a 2-year guarantee on any parts and service we provide during your membership.
To top it all off, your membership is free for the first 30 months. During that time, your monthly dues add up so that they can be used toward a future service or part you need. So if you need a repair or service, you already have part of it paid for.
If you move to another home within the market area, you can transfer your membership with no penalty, and you won't have to start over. You can even transfer your membership to the new owner. With The Diamond Club, you can't lose.