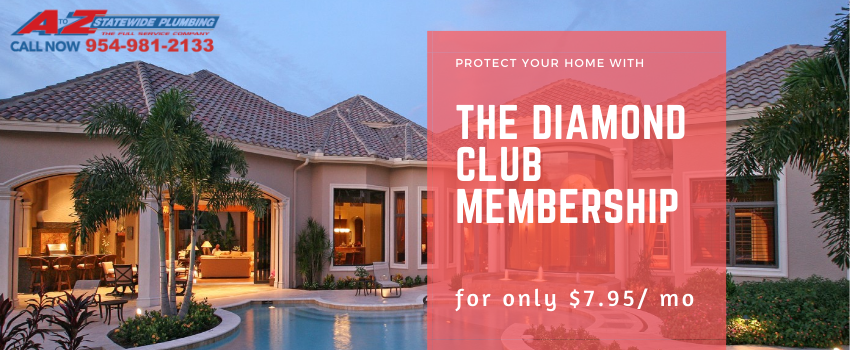 No matter how attentive you are as a homeowner, plumbing issues are just one of those facts of life. "The Diamond Club" is our way of helping elite homeowners take care of these annoying issues in the most economical way possible.
What Is the Diamond Club Exactly?
"The Diamond Club" is a membership opportunity for homeowners that we offer only to an elect number of clients, 22 percent in fact. We have to keep the number of people who can join limited so we are certain we can serve everyone. Your Diamond Club membership grants you protection when you have a plumbing issue, breakdown, or catastrophe and you need our help.
How Much Does the Diamond Club Membership Cost?
For only $7.95 a month, your membership grants you:
A free $200 annual service inspection with a certified technician
A 25 percent discount on home plumbing repairs
Priority service when you have a plumbing issue
Plus, your first 30 months of Diamond Club Membership are essentially free. Your dues are accumulated during your first 30 months and can be used in full to go toward a new fixture, a plumbing service call, or whatever you need from us in the future.
Your Included $200 Annual Service Inspection Is Invaluable
The annual service inspection you get along with your Diamond Club Membership is designed to help protect your home from future plumbing problems. This extensive service call includes:
A comprehensive examination of all toilets to ensure they are functioning and not leaking; general adjustments are included for free
An assessment of your water heater for signs of issues, lowered efficiency, or corrosion
A Faucet Performance Test to ensure all water faucets are non-leaking; adjustments are done for free
A walk-through examination of exposed plumbing lines
An in-depth discussion with the technician to cover any concerns you may have
A professional assessment of the health of your drains
And more!
Our Promise to You as a Diamond Club Member
When you become an exclusive member of the Diamond Club, your needs become our top priority as a service provider. That means, no matter how many customers we have who need our help, you and your plumbing issue will go to the top of the list so you can get help right away. Whether it is a clogged toilet or something simple like a small water leak, when a customer with a Diamond Club Membership gives us a call, we will respond as quickly as possible. You'll never wait any longer than two hours for our team of experts if you call between 5 pm and 8 am, and we promise one-hour service from 8 am to 5 pm.
Reach out to us at A to Z Statewide Plumbing to learn more about our Diamond Club Membership!